These days it seems as if mommy loses all the attention once the baby makes their arrival. Everyone comes by bringing gifts for the baby and is super excited to meet him. But what about mommy? Doesn't she deserve some pampering and lots of support and care during this season of her life? She's gone through some significant changes these last few months and will continue to do so during her postpartum period. As a result, there are some things new moms need for themselves.
Reminding a new mom to take good care of herself is one of the best pieces of advice you can give her as her mom, spouse, best friend, or loved relative.
Often, new moms forget to care for themselves because they focus all their attention on caring for their new baby. While prioritizing her baby's needs is important during this season of her life. She shouldn't neglect her needs because they are equally crucial to being the healthiest version of herself.
So without further ado. Here are 19 things new moms need for themselves.
Things Every New Moms Need
Moms need the best product to heal and reduce the discomfort they may be experiencing after giving birth.
Sunflower Motherhood's postpartum recovery box includes a wide range of curated care packages every new mom needs after giving birth.
Gifting mom this package will remind her of the importance of caring for herself.
This postpartum recovery box includes:
mesh underwear
sitz bath pads
perineal heat/cool pack
witch hazel pads
perineal cleansing bottle
candle
affirmation card
2. Nursing bras
Even if mom is not breastfeeding, she's gonna need some good maternity bras that she will be using for quite some time.
Having comfortable bras will aid mom in feeling comfortable when she's out and about. And if she's a nursing mama, well, these bras from Kindred Bravely will allow her to nurse confidently.
Finding comfortable postpartum bras is something many new moms often overlook. But it's one of those things new moms need for themselves.
If mom is breastfeeding, Earth Mama Organic Nipple Butter is a must-have. It is cruelty-free, botanical-rich, lanolin-free, and non-sticky, that will moisture and bring mom's nipple back to what it used to be.
It's also Non-GMO Project Verified, so there's no need to wash it off before nursing the baby.
4. More sleep
Chances are mom is not getting as much sleep as she needs. She may be exhausted and tired, and all she really needs but doesn't want to admit is for someone to tell her to have a nap. I will care for the baby.
Phone mom up and let her know you will be over to help her with her baby while she gets some much-needed rest. Or just attend to some self-care.
5. New moms need someone to clean and tidy up
Caring for a newborn requires time, patience, and so much more!
While everyone is giving mommy the advice to sleep while baby sleeps and forget about house chores, you know that will be difficult for mommy to do. Let's face it! If mommy doesn't clean, who's going to do it?
Dishes will pile up; laundry load will explode…
Volunteer to help mommy do her laundry or baby's laundry. Clean her refrigerator—vacuum or whatever she needs to get done. So mommy can enjoy a clean and tidy space.
6. New moms need someone to talk to without feeling judged
Mom guilt never tells you when it's going to show it. But when it does, it makes mommies feel crappy.
Support mom during this season of her life by being compassionate and listening to her without feeling judged.
Remember that she's doing a great job. And to never put pressure on herself. Messing up in motherhood will allow her to grow and become a stronger mom. So fear not.
Send her inspirational messages, stories, and quotes for mom.
To this day. I wished I had one of these.
Journaling during postpartum can help mom to connect with her inner self. Allowing her to heal and take care of herself, helping mommy love her body after giving birth, and strengthening her self-worth.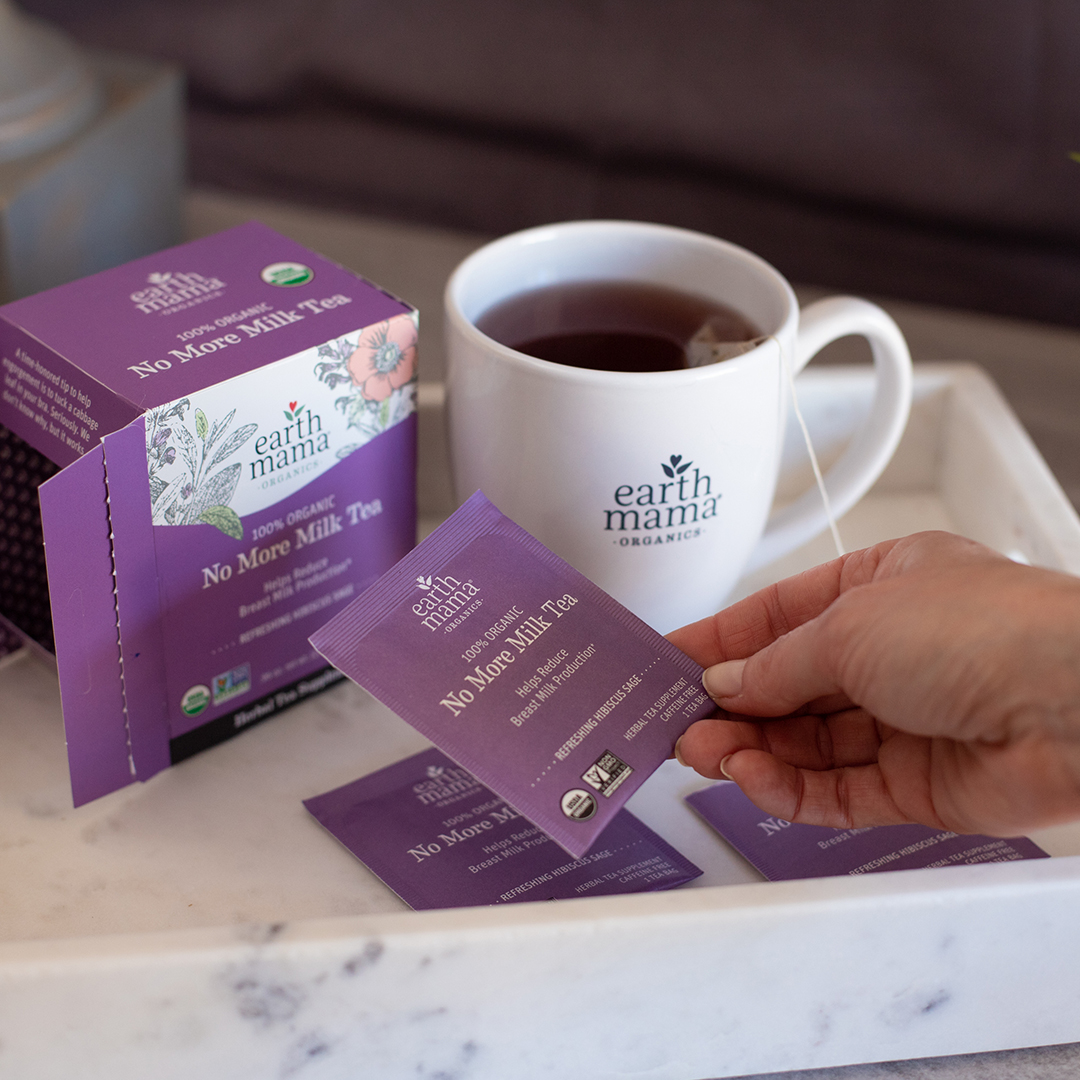 Give mom something to sip on while she nurses the baby.
If mom is breastfeeding, EarthMama's organic milkmaid tea can help support mom with her milk production. While their Periodic tea has a comforting cinnamon blend of organic herbs that can help ease PMs' symptoms and premenstrual cramping.
One of the best ways mommy can take good care of herself is staying hydrated. While this sounds super easy, we both know how challenging it can be to remember to drink water. Not having a water bottle next to us makes it even harder. Truth?
Inspire mom to consume more water and take care of herself by giving her a water bottle. One with a silicone straw and motivational quotes. 
11. Motherhood reads
Motherhood is not always sunshine and roses. Some days are more challenging than others. Days where we moms feel like we have it all together and then days where we feel like our kid's worst enemies.
Motherhood is not a one size fits all. Yet there are so many lessons moms can learn from each other.
Two of my favorite motherhood books that I highly recommend are:
You Are a F*cking Awesome Mom: So Embrace the Chaos, Get over the Guilt, and Be True to You   There is so much encouragement ad support in this book for new moms. From one mother to another without the sugarcoating. A must-read for all new moms. 

12. A phone call
Everyone is busy these days. And maybe so are you. But you have this nagging voice that you need to be there for mommy. You still can!
Send her a text and ask what time she's available to chat that you would like to check in and see how she's doing. Moms are always up for a chat. They need it. New moms need constant reminders that they are doing a great job. New moms need reassurance, support, and comfort during this sacred yet scary season of their life.
Something simple as a phone call can have a massive impact on a new mom. So don't shy away from making that call today. Mommy needs it, and so do you!
While those stretch marks symbolize the creation of a beautiful life, they can also make mom hate her body or feel ashamed of her body. Stretch marks may even prevent her from wanting to be intimate with her partner. Make things easier for mom by helping her love her body and feel confident in it. Visit The Spoiled Mama to see their entire collection. 
14. Comfy clothes
Comfy lounge clothes are one of the many things new moms need for themselves. She needs to be comfortable as she moves around taking care of the baby and herself. Without worrying about feeling too sluggish or storing her baby fat longer than she expected to.
Zulily is my go-to when it comes to fashionable and comfortable lounge wear. Check them out today!
15. Skincare products
Grab a basket and load it with mom's favorite skincare products. She will love this, but more so, you will be encouraging her to take care of herself because she deserves it!
16. Cook dinner or bake for mom
Why not cook mom her favorite meals and drop them off to her? If cooking is not your jam. You can order dinner for mom or even subscribe to a healthy food service like Jet Fuel Meals. 
Grab some healthy snacks or bake cookies and muffins for moms and stock her pantry up. She will be so grateful to receive these from you.
17. Run an errand for mommy
Ask mom what she needs to get done. Volunteer to run errands for her. Maybe it's to pick up groceries or grab diapers for the baby. Whatever it is. Help out.
You can always suggest caring for the baby while mom heads out to get some alone time. Many new moms will prefer to stay with their babies, so don't take things personally if mommy stays with her baby.
I know it took me a long time before I left my daughter with anyone.
If you're unsure what to give mom still or believe she may have all of these things already. Why not gift her an Amazon gift card or a gift card for her favorite store?
19. No unsolicited advice
Mom needs compassion and understanding. Not someone constantly telling her what she MUST do because everyone is doing it. Allow mom to learn as she navigates motherhood. Allow mom to be the mom she wants to be while raising her child by her standards.
Refrain from giving mom unsolicited advice and instead extend compassion to her. If mom asks for advice, then give her solicited advice.
A woman's life changes drastically after childbirth. At the same time, there are so many known before entering motherhood. The unknowns are and will always be there. The first six weeks of motherhood are filled with joy, excitement, sleepless nights, etc. The best thing you can give to a new mom is your support, love, and ear. Be there for her without judgment.
If you found this post helpful, you may also want to visit Gifts For New Moms That Aren't For Baby.
This post contains affiliate links, and I may receive a commission at no additional cost to you should you purchase through one of my links. Please see my privacy policy disclosure for more information.