When done consistently, journaling is one of those activities that can help you unlock emotions you have hidden deep within yourself. Emotions that are keeping you awake at night. Have you feeling isolated and so forth. It can also help you figure out who you are and who you aspire to be. As a new mom, you are probably feeling overwhelmed. You are questioning your worth and ability to parent. As much as it is a joyous time, it can be scary because of the many unknowns. Journaling is an effective tool that you can use to overcome your first-time mom's anxieties. Today I will be sharing the six best journals for new moms (just like you).
Whatever your emotions are as a new mom, rest assured that you are not alone.
The thoughts of your baby not waking up or being left in a dirty diaper all night. Maybe you are not sure if she's getting enough milk.
First-time mom jitters are dreadful!
How do I know that?
I've been there. And I was that mom who was scared and lacked confidence in herself.
So what helped?
Unfortunately, I had to go through those struggles alone.
I wasn't sure where I could have turned for support, so I figured things out independently. Or at least tried to!
Not a good idea! And I don't recommend you do either.
The good thing is I eventually discovered journaling. And let me tell you, it's one of those tools that I always go back to.
Especially on days, I feel lost and out of touch with myself.
I bet you have those days regularly, too! Don't you?
You can't comprehend why you are feeling angry. Not sure how to politely object to the unsolicited mom's advice. And let's not forget the urge to compare your baby's milestones to another baby's milestones.
Journaling can help you overcome these first-time mom fears and guilt.
6 Best Journals For New Moms
Finding the time to journal can be difficult as a new mom. But the benefits you will receive from journaling are extensive.
You can grab any notebook of yours and use it as your journal.
The most important thing is that you decided to start a journaling practice in the early stage of motherhood.
The key is sticking to it. Because I assure you it will be one of the most invaluable gifts you ever give yourself.
Before we dive into six of the best journals for new moms, I invite you to access these journaling prompts. The exact journaling prompts I've used to find my identity after motherhood.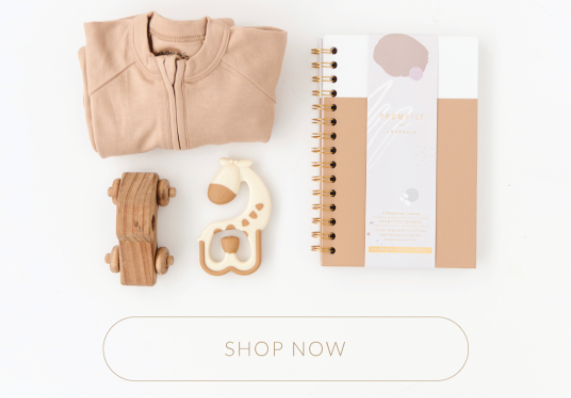 Whether it's your firstborn or thirdborn, transitioning as a new mom can be challenging.
This postpartum journal allows you to heal and care for yourself through pregnancy and the postpartum period.
You can reflect on your birth and the emotions that come up for you. This journal touches on the many aspects and challenges you will face in this season of your life. And I think it's the best journal for new moms.
The journal prompts in this journal are unique, and they will allow you to dive deep into those emotions you are struggling silently with.
The best thing is you can answer these prompts while nursing the baby or before heading to bed. They are convenient and not time-consuming.
Perfect for a new mom!
As a new mom, being kind to yourself is vital!
And while some may think that self-love is cliche. I don't think so.
Why?
Because there are still so many women out there who struggle with self-acceptance.
Self-love is an ongoing process.
As a new mom, you may get caught up caring for your baby and listening to society's noise that you overlook yourself.
Learning to take care of yourself will allow you to show up for the ones you love while impacting their lives.
If you haven't done it yet. Make sure to check out these related posts on self-love and self-care.
For the last few years, gratitude journaling has been part of my morning routine. And let me tell you. It's been a game-changer.
A simple act of listing three or five things you are grateful for daily can drastically transform your life. Allowing you to cultivate an abundance mindset.
A mindset that is much needed in the world we are living in today!
This gratitude journal form promptly journal is one of the best journals for new moms. And a must-have!
Related post on gratification:
As a new mama, make sure and soak up all those calm and peaceful moments. Because there will be a time when that little angel of yours will throw a tantrum in one way or the other. Some form or shape.
The parenting horror stories journal gives parents a place to write down their tantrum meltdowns. The ones you may experience in the grocery stores to those where your child demands having a cookie before dinner. Or, who knows, no dinner at all.
This is a memory-based journal where you will write for your child.
Wouldn't that be a fantastic gift to give your daughter or son on their eighteen birthday?
This journal will document your pregnancy through eighteen years of your child's life.
From when your baby's first word, when she loses her tooth to her teens years and driving for the first time. Yikes! Scary to even think of that, right?!
If you are looking for an unprompted journal because you have so many thoughts sprucing inside of you. And want to get them out on paper and free-write. Then this blank journal will be perfect for you.
You can also visit this blog post for journaling prompt ideas.
Why are these my pick for the best journals for new moms?
Well, let's face it!
As a new mom, time is an essential factor. These journals are easy to fill out and not time-consuming.
It will not be one of those journals you purchase and never use because it was too difficult to keep up with.
It's affordable and stunning.
These journals all have prompts that will allow you to dig deep into your emotions and be honest with yourself.
These are my seven best journals for new moms and moms-to-be.
Now, I would like to hear from you. Which one of these journals best fits your needs?
And if you have any other recommendations, please comment below.
And, don't forget to grab these journaling prompts if you haven't done so already.
This post contains affiliate links, and I may receive a commission at no additional cost to you should you purchase through one of my links. Please see my privacy policy disclosure for more information.